Travel to Stockholm
There are all means of transports to choose from when you are going to travel to Stockholm. There is three airports close to Stocholm, Arlanda, Bromma and Skavsta. There are lots of airway companies going to one of these Stockholm airports at differnt price levels. A few of them will be provided below but Stockholm Travel Books recommendation is to use a service that scan differnt flights to find the cheapest and most suitable flight, such as Seat24. For hotels or hostels you may use Hotels.com.
If not going by air there are plenty of other ways to get to Stockholm. There are cruise connections between Stockholm and other Baltic cities like St Petersburg (Russia), Gdansk (Poland), Tallinn (Estonia), Riga (Latvia), Helsinki (Finland) and Turku (Finland).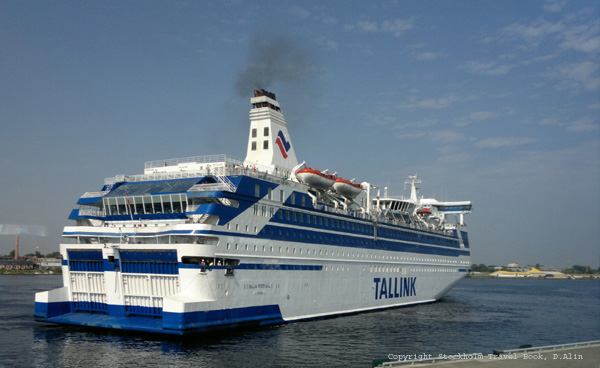 Tallink ferry going from Riga to Stockholm
Also one can travel to Stockholm by train, by coach or by car from other European cities, either through Copenhagen (Denmark) or using one of the ferries below which all take cars as well as passengers.
Travel to Stockholm by air
Some of the more popular airways flying to Stockholm are provided below. However a recommendation is to use Seat 24 to find a suitable flight to Stockholm. Seat 24 searches most airlines for the best price and most suitable flight. You can find both direct flights to Stockholm and flights through other cities if there is no direct flight from where you are leaving.
Seat 24
Find the cheapest flight to Stockholm using Seat 24
Rossiya
flights from St Petersburg to Stockholm.
Airbaltic
flights from Riga to Stockholm
Wizz Air
Flights from Poland etc to Stockholm
Ryan Air
Flights to Stockholm from many destinations within Europe
Norwegian
Flights to Stockholm
Scandinavian Airlines
Flights to Stockholm from differnt cities around the world
Aeroflot
Flights to Stockholm from Moscow
Cruise ships to Stockholm
(regular cruises only)
St Peter Line
Cruise ships going from St Petersburg, Russia to Stockholm
Polferries
Cruise ships from Gdansk, Poland to Stockholm
Tallink
Cruise ships from Helsinki, Turku, Tallinn and Riga to Stockholm
Viking Line
Cruise ships from Helsinki and Turku, Finland to Stockholm
DFDS Seaways
Cruise ships from Paldiski (Estonia) to Kappelskär
Travel to Stockholm by bus and train
SJ - Swedish railways
Trains within Sweden and from Copenhagen and Oslo
Deutsche Bahn
German railways, time-tables for all European trains
NSB
Trains from Oslo, Norway to Stockholm
Eurolines
Coaches to Stockholm from within Europe
Travel to Stockholm by car
Viamichelin
, A good travel planer/maps if going to Stockholm by car
---
STOCKHOLM TRAVEL BOOK - SWEDEN
Copyright © 2014, D.Alin
www.stockholmtravelbook.com